OUR VISION
Our vision is to bring luxury handcrafted shoes to all modern women. We provide the highest level of design and craftsmanship and bring all INGILIZ creations to life through an in-house manufacturing process powered by zero-waste technologies.
OUR MANIFESTO
I. We believe designing and manufacturing luxury footwear and minimising our impact are symbiotic.
II. We craft every shoe by hand, marrying 30 years of artisan craftsmanship with advanced technology.
III. In-house production and family values are the foundation of our business.
IV. We believe getting lost in the details is a beautiful place to be found.
V. We design for comfort, because the world is constantly moving
and we move with it.
VI. We are obsessed with providing the fairest possible price so that every conscious modern woman can enjoy our creations.
VII. We recognise and commit to our responsibility to make decisions with people and the environment at the forefront.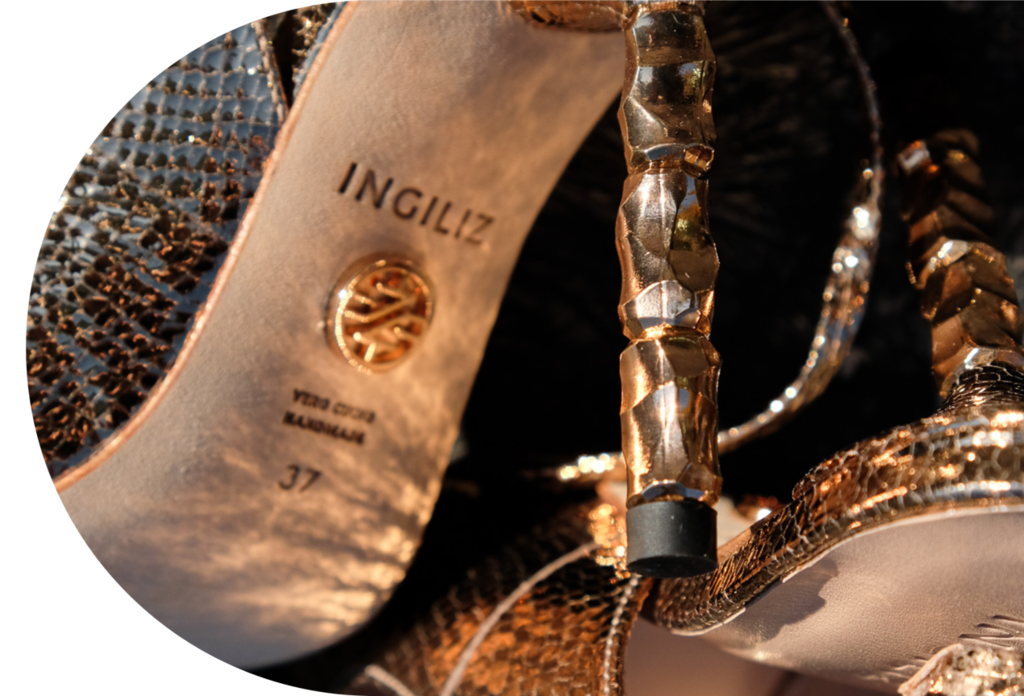 Our goal extends beyond just making luxury designer footwear – we aim to educate our customers about what we believe is true luxury – to make informed decisions and choose items that not only match your style, but also your values. For us, sustainability is not the effect of a particular initiative but a result of a business well run. We manage to make our luxury creations accessible due to almost 100% control over our supply chain resulting in an unmatchable ratio between quality and price. Handmade in our family-owned factory in Peshtera, Bulgaria, INGILIZ shoes are a process of calibration and constant refinement. 
OUR SYMBOLS
The INGILIZ logo reflects our way of doing business and what we value most. The round layout of the logo symbolizes our planet Earth - our home. The abstract symbol of eternity stands for the timelessness of INGILIZ's creations and turning the sandglass aside reminds us that balance is very fragile – action is needed to restore the balance and protect our beloved Planet Earth. The first and last letters of our name, INGILIZ, are in the middle of our logo, which shows that all family members, from the first to the last one, stand behind our values
The pink color of the packaging symbolizes tenderness and beauty. The fluid shapes and forms in our visuals reflect the natural feminine form that bears and sustains life and the creative force that flows through each INGILIZ creation.